Equity in ECCS
At Eastern Carver County Schools, we are committed to creating a school environment where everyone feels welcome, safe, and included, and where every child has access to the tools and opportunities they need to succeed. The mission of our school district is learners achieving their personal best and, simply put, we cannot be successful if equity work isn't foundational to our approach to learning.
The School Board and district staff are committed to this work. Equity is foundational to personalized learning, it's necessary for strong communities, and every single one of our students will benefit not just during school, but after they leave our halls. This work requires an investment from all of us, administrators, teachers, parents, students, caregivers, and community members to be successful. This is long-term, ongoing work which the entire ECCS team believe in, and in the potential of every student in our district.
Equity Definition: Equity in Eastern Carver County School District means a student's identity - their race, ethnicity, gender, sexual orientation, class, immigration status, religion and/or disability – does not predict their success. All students are provided the tools, resources, and support they need to achieve their personal best.
Equity Vision: Eastern Carver County Schools is a safe, welcoming, and inclusive district where all students feel heard, seen, and valued. Our district celebrates students for who they are - their unique personal story – and provides students with a personalized, exceptional education that will help prepare them for who they want to become.
Equity Beliefs:
• Equity is essential and foundational to the success of Eastern Carver County School District
• Everyone is welcome and belongs in our school community
• Our students, families, staff, and community members bring diverse life experiences - assets that should be recognized, celebrated, and embraced as opportunities for growth and learning
• All learners can achieve high academic standards; high expectations will be communicated, supported, and maintained
• All students must see themselves reflected in the district; this means in staff, teachers, and administrators
• Curriculum must be inclusive and include diverse perspectives
• Authentic, two-way relationships between families, schools, and community partners is valued and nurtured across all demographics
• Explicit and transparent communication is vital to build trust and foster relationships
• Staff will participate in ongoing professional development and training to build a shared foundation for equity, foster change and develop a growth mindset
• Resources must be allocated to sustain equity work
• Measurable equity outcomes and accountability are essential to ensure progress
Greetings ECCS Community,
I don't know about you, but this time of year can be challenging for me. Between the snow storms, frigid temperatures, and gray skies, I have to intentionally seek out joy.
One of my strategies for this is to try and look at things through the eyes of children. Children are brilliant and inspirational. They can find opportunities to be silly and savor the little things. They have curiosity and creativity. They taste snowflakes and make pictures for people who are kind to them. They are my why and the center of all I do.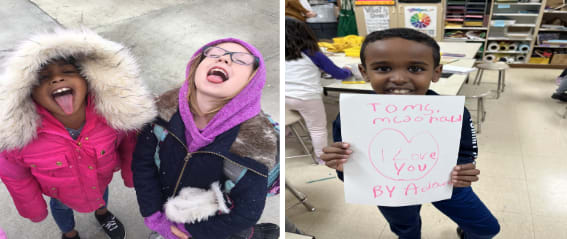 Therefore, as we enter into the seemingly long month of March, I challenge all of us to take more time to be childlike. Be silly. Savor the small things that really are the big things. Be curious of others' experiences rather than judgemental. Get outside and try to appreciate the weather surprises.
Perhaps most, let's be sure to say thank you to those who are kind to us.
I imagine that if we all do this, March won't feel as long and joy would increase. We would all be better humans if we took more moments to learn from the wisdom of children.
Together,
Arika Mareck
Equity Newsletter (March 2023)
Join Arika Mareck, director of equity and inclusion at Eastern Carver County Schools, for coffee and conversation in 2023. Guests should enter the building at the Welcome Center entrance and check-in.
Tuesday, April 4 (5-6 p.m.)
Thursday, May 4 (8:30-9:30 a.m.)
Equity Initiatives
Eastern Carver County Schools is and has been, committed to providing students equal educational opportunities. Over the last decade, our district has engaged in a variety of initiatives with the shared purpose of creating communities of belonging and success. Our commitment to equity is reflected districtwide in work designed to:
acknowledge and check our racial and cultural biases;
utilize data to understand what is working and where we must improve;
implement best practices related to engaging and supporting learners in achieving their personal best;
provide stakeholders in our community with opportunities to engage meaningfully and guide our vision for equity.